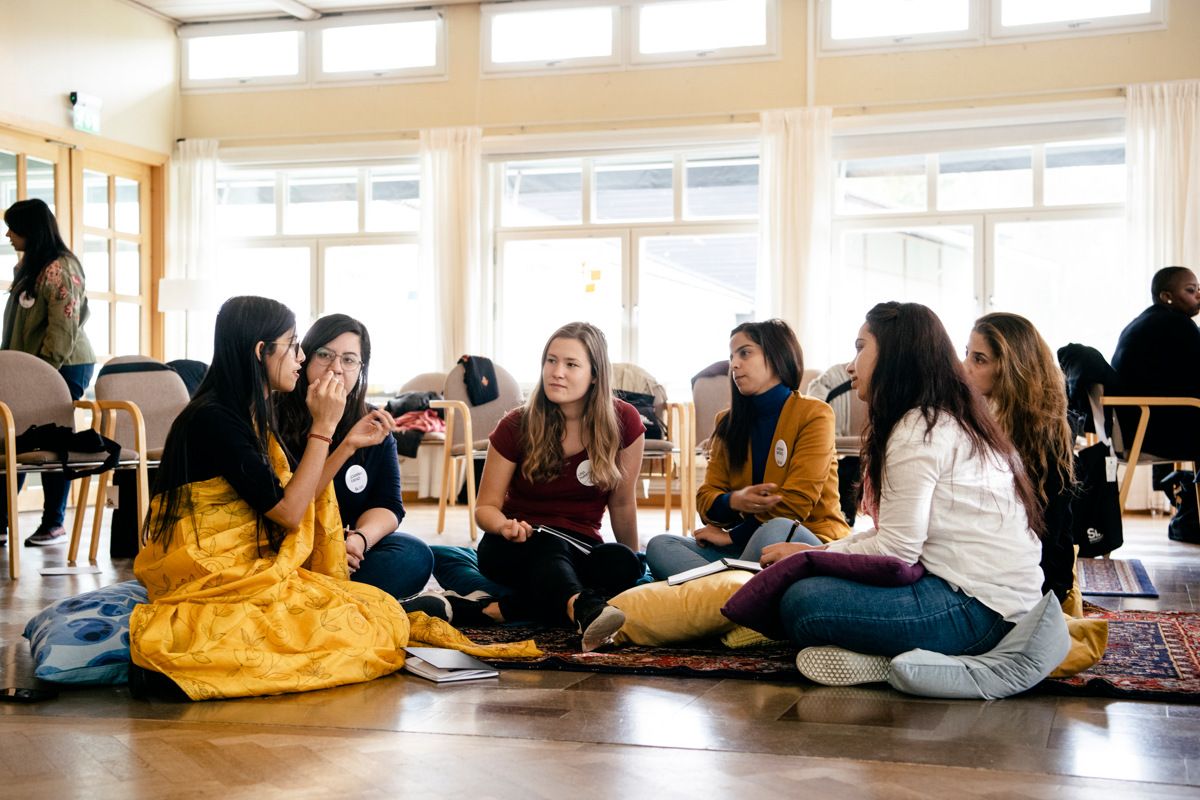 | | |
| --- | --- |
| Type | Leadership programme application, part-time |
| Study language | English |
| | |
| --- | --- |
| Territory requirements | Applications are accepted from the following territories (based on citizenship): Afghanistan, Algeria, Armenia, Bangladesh, Belarus, Egypt, Georgia, India, Iraq, Jordan, Lebanon, Moldova, Morocco, Nepal, Pakistan, Sri Lanka, State of Palestine, Sweden, Syria, Tunisia, Ukraine, Yemen. |
| | |
| --- | --- |
| Language requirements | English |
Overview
SI Leader Lab – Connecting leaders in civil society
Are you a leader in an organisation working for a more just, peaceful, and inclusive society? SI Leader Lab is a leadership programme for civil society leaders in Eastern Europe, South Asia or the
MENA

region who want to discover innovative tools and new forms of collaboration.
Apply to SI Leader Lab if you want to grow as a leader, develop your organisation's advocacy work and exchange knowledge in a network of inspirational peers.
SI Leader Lab is designed to strengthen the capacity of civil society organisations for successful advocacy work for Sustainable Development Goal 16 (promoting just, peaceful and inclusive societies). The programme brings together influential civil society leaders who are open to new digital solutions and innovative methods. The network consists of peers from across various sub-sectors in civil society and provides the participants with broad input from different spheres in the field. There are three parallel programmes with an equal number of participants from three regions:

30 participants from South Asia
30 participants from the Middle East and North Africa
30 participants from Eastern Europe


The programme combines online workshops, in both regional and cross-regional learning groups, with regular coaching support. In May, all 90 programme participants will come together in Stockholm for an intensive week of onsite learning that deepens the experience and enhances collaboration.
SI Leader Lab will give you:
Personal insights as a leader: how to lead yourself and others through increased self-awareness and increased understanding of group development.
A stronger capacity in your organisation to successfully lead and organise teamwork.
A stronger capacity in your organisation to lead and implement effective advocacy work.
The possibility to share and build knowledge in a network of experts, to inspire each other and share experiences on common challenges
SI Leader Lab is arranged by the Swedish Institute, a public agency that builds interest and trust in Sweden around the world. The Swedish Institute work with Sweden promotion, cooperation in the Baltic Sea region and global development. (Link to Swedish Institute website)
Am I eligible to apply?
Applicants to SI Leader Lab must meet the following requirements:
Have a position in a civil society organisation or network working toward Sustainable Development Goal 16, within the 2030 Agenda. This can, for example, be an organisation working within such areas as peace and security, equality and inclusion, transparency and anti-corruption, accountability, and access to free information and media integrity.
Work with a team in which they have a leadership role (formal or informal).
Between the age of 25 and 45 years old (born 1977 to 1998).
Good working knowledge of both written and spoken English.
A citizen of Afghanistan, Algeria, Armenia, Bangladesh, Belarus, Egypt, Georgia, India, Iraq, Jordan, Lebanon, Moldova, Morocco, Nepal, Pakistan, Palestine, Sri Lanka, Syria, Tunisia, Ukraine or Yemen.
Available to participate in all parts of the programme.
Prepared to implement tools, competencies and knowledge they gain from the programme in their team and organisation.
No exceptions can be made to any of the eligibility requirements.
Please note that the SI Leader Lab is a demanding programme that uses experienced-based learning and reflection as a tool for personal growth. Therefore, it's recommended that all participants are mentally well-balanced.
How much time do I have to allocate for the programme? 
Here is an estimation of the time the programme requires: 
Online
From mid-February to May, there will be regular online sessions once every other week. There will be approximately 15 online sessions (approximately 80 hours, spread out over three months, plus time for your own initiative). Online sessions are typically one to two hours of group meetings, plus the time you use for your own team assignments and learning groups. Participants will take part in online seminars, practical group assignments and individual project work. There will also be optional coaching sessions where you can invite your team to participate. An exact schedule will be sent at the start of the programme.  
 
Onsite – Stockholm, Sweden 
On 2 — 10 May (including travel days), there will be an onsite meeting in Stockholm, Sweden. During this time, the programme is full-time and it's important to take time off work to be able to participate fully.  
 
Organisation involvement
As a participant, it's important that you have permission from your supervisor to take part in the programme and to try out tools and methods from the programme with your team. During the programme, you are expected to actively implement the tools and methods from the programme (for example by holding implementation workshops with your team). There will also be optional coaching sessions where you can invite your team members to participate. 
Programme timeline

Submission period for applications: 1 – 30 November 2022
Selection period: 16 – 21 December 2022
Notification of acceptance: 16 January 2023
Online workshops and coaching: Mid-February – April 2023
Onsite sessions in Stockholm (3 regions, 90+ participants): 2 – 10 May 2023 (incl. travel days)
Programme wrap up, online: Early June 2023


Costs covered and arranged by Swedish Institute
Your flights to and from Stockholm.  
Your accommodation and meals in Stockholm during the programme's period of onsite sessions in Sweden.
Your insurance during the programme's period of onsite sessions in Stockholm, Sweden.  
All training material, online and onsite.
How to apply
Only applicants who have submitted a complete application will be considered for the programme.
These are the steps you need to go through to submit your application
Register your profile in the application portal.
Select what programme you would like to apply for (SI Leadership Lab becomes available on 1 November).
Answer all the questions for the different sections in the application portal (found in the left-hand menu).
Upload your CV under the document section.
After you've submitted your application, you'll receive a confirmation email.
You will also get an email with a link to record a short video. Follow the instructions in the email. You will have to record the video within 24 hours of receiving the link. It will take less than ten minutes to record the video. You will get two questions to answer within two minutes each. We ask you to make the recording in a quiet setting and, if possible, use headphones with a built-in microphone. Please note that it is mandatory to make the video recording. We wish you the best of luck!
Evaluation of applications
Each application is evaluated according to the following criteria:
Sustainable Development Goal (

SDG

) 16: To what extent does the work of the candidate fall within the scope of

SDG

16?
Organisational impact: What capacity does the applicant's organisation have to drive development within

SDG

16?
Impact within organisation: What capacity does the applicant have to impact strategic decisions within his/her organisation?
Drive and leadership capacity: Has the applicant demonstrated drive and enterprise – for example by undertaking new initiatives?
Advocacy: Is the applicant working with advocacy in their daily work? If not, possibilities to benefit from the programme will be limited.
Teams: Is the applicant collaborating with others in their daily work? If not, possibilities to benefit from the programme will be limited.
The candidate's overall potential to both benefit from and contribute to the programme.
As part of the final selection process, the evaluation committee also considers the overall English proficiency level and equal representation of gender amongst the programme's participants, as well as including a balanced mix of geographic origins and expertise.
Admission
SI will contact the selected applicants by email to offer them a place in the programme. SI will also compose a list of reserve candidates in case a second selection round is needed. Unfortunately, because of the large number of applications for a limited number of spots, we have to turn down many highly-qualified people who apply to the programme.
Read more about the programme here: SI Leader Lab – Connecting leaders in civil society – Svenska institutet
Read more about the Swedish Institute here: Swedish Institute